Let your customers decide!

Marketing experts discuss over and over again the best "Engagement Strategy" – and have to confront a variety of questions: When is the best time for E-mails to be sent to customers? How often should one interact with the customer? And through which channels should communication take place? These questions are always relevant, but they can already be answered by the customers.
Given the intensity of the motion in the market and the innumerable firms which attempt to get the "Message" across, it becomes increasingly difficult for marketing professionals to reach the final customers. Together with the shift of power from seller to buyer, marketing is more demanding than ever.
Behavioral Marketing makes it possible for the customer to decide when and how information is transmitted, which information is received, and when there is a willingness to initiate the next level of a campaign. This ensures that the customer receives the desired information through the preferred communication channel.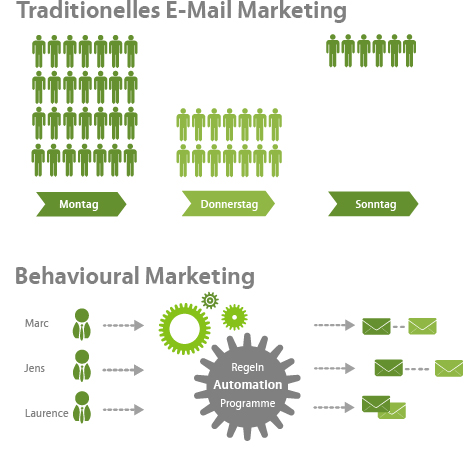 A key to the Behavioral Marketing approach is automation. Many firms operate with a highly constrained budget and limited marketing staff. These constraints coupled with thousands and millions of contacts in data basses make it almost impossible to guarantee that every customer gets the relevant information in a timely manner. Aided by "Trigger Messages" and guided by behavioral marketing "Nurturing Campaigns", marketing managers can ensure that customers get the messages they want and not mass communications, and further that they do not receive delayed responses.
STRATECO helps you to select the "Marketing Automation" solution that fits your needs and to introduce this solution step-by-step. If it is so desired, we can assume responsibility for the entire operation for you. In this way you can concentrate on your genuine tasks: Inspiring your customer with good marketing!

Applications
Here are some topics for which a behavioral marketing approach can be implemented:

Welcoming programs for new customers or newsletter subscribers

Reaction to surfing behavior – "Trigger Messages" based on articles or Topics which the customer previously viewed/clicked
Purchasing cancellations – Sending offers, additional recommendations and further information in order to motivate customers
Customer Loyalty after purchase or download – Thank you E-Mails, "Cross-Selling", "Up Selling", next steps
Success control with all KPI's

Dormant customers – reactivation of customer by means of selected offerings or invitations to dialog ("…are you still interested in us?")