Simple automation of campaigns and programs!

Marketing experts know the problem. Many campaigns are run in parallel, often in many phases and over many channels. There is little time for creativity and good content, even less time for monitoring and verifying the degree of success and for optimizing. With a "Marketing Automation"-solution, such problems can be handled. At a "single point of control" you have an overview of all campaigns, and with one click you have a push button that instantly provides transparency of the results.
Many campaigns and programs can be set up and configured with the help of a simple drag & drop graphical user interface. Once they have been set up, the programs operate automatically and can be linked to each other in any way desired. In the course of time a huge kit of process tools is accumulated, which enables you to achieve efficiency in monitoring and controlling campaigns and programs!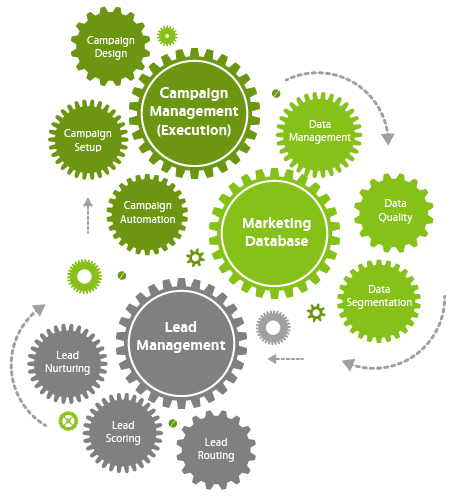 By means of behavioural, time and rule based criteria you are in a position to build up an efficient dialog with customers, right down to a genuine "1:1 communication" with dynamic content. Even personalized landing pages or Newsletters based on individual preferences are easily realized.
STRATECO helps you choose a "Marketing Automation" solution suited to your needs, and we support you step-by-step in the implementation. If you so wish, we will assume responsibility for operating the entire process on your behalf. This frees up your time to concentrate on your core task: inspiring your customers with good marketing!
Possible Applications
The applications for "Marketing Automation" are almost unlimited. Below we have summarized a number of suggestions and examples:

Behavioral Marketing and search tracking in Web

Dynamic Newsletter processes with personalized content
Lead generation and lead qualification
Customer assessment with Scoring models
Success control and Reporting with all KPI's

Social Media Integration with Standard modules